Overview
GovTech is developing the Singapore Government Tech Stack (SGTS) with a vision to modernise development practice across Whole-Of-Government (WOG) to help build secure systems that are responsive to constantly evolving citizens and business needs. To achieve this, we need to adopt a three-prong approach: People, Platform and Practice.
People: We build the right capabilities and a growth mindset to adopt the technology practices in our development teams.
Platform: We offer the right set of tools through SGTS for building high quality, secure systems.
Practice: We offer guidance on how to use the tools to empower the developers.
SGTS products are built on principles of being developer-focused, driving automation, improving observability and auditability, ensuring compliance and security by design, exposing services via APIs and using native solutions.
What is SGTS?
SGTS is a set of platform tools that streamlines and simplifies the development process and enables code reuse across WOG to build secure, high quality applications. SGTS has a 2-layer architecture where the Base Layer focuses on standardising development tools and environment and at the top, the Services Layer drives code reusability within WOG.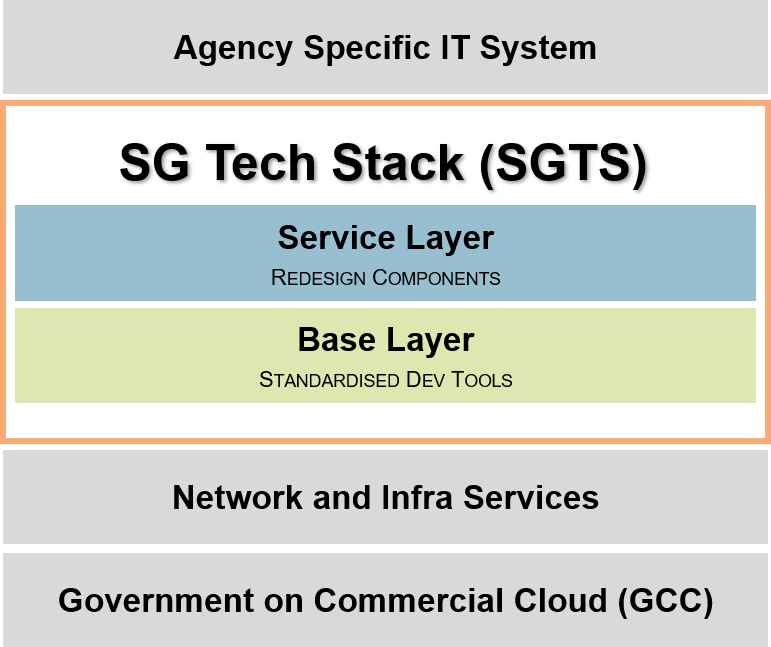 Singapore Government Tech Stack (SGTS)
Success Stories
More than 200 systems from 40 agencies have already reaped the benefits of SGTS by implementing their services or applications on cloud. These include time and cost savings allowing them to focus on the services and applications instead of building cloud architectures.
Last updated 12 August 2022
---