GoBusiness COVID Portal – Support Portal for Reopening Businesses
GoBusiness COVID Portal – Support Portal for Reopening Businesses
Jointly developed by GovTech and the Ministry of Trade and Industry (MTI), the GoBusiness COVID Portal supports businesses during the COVID-19 pandemic by allowing businesses to apply for exemptions and permissions, as well as providing them with information on the latest COVID-19 related regulations and safe management requirements for the continuation of their operations.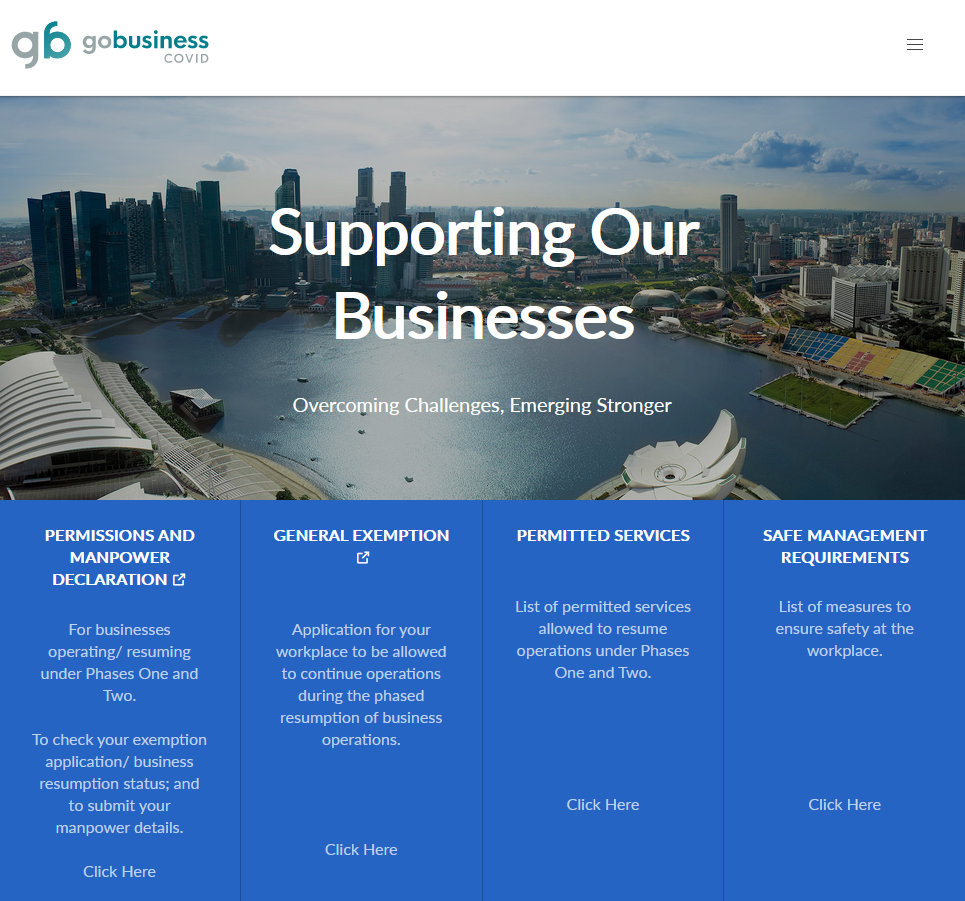 The GoBusiness COVID Portal was built using GovTech's Isomer tool (an informational website generator) and complies with applicable clauses in whole-of-government guidelines and standards such as the Instruction Manual 8 (IM8), Design Service Standard (DSS) and Usability Checklist (UC).
I am a business owner. How can the GoBusiness COVID Portal help me?
If you wish to:
Reopen your business but are unsure about what to do – the GoBusiness COVID Portal provides information on the latest COVID-19 related regulations and sector-specific safe management requirements, as well as a list of permitted services. It also highlights how contact tracing support measures like SafeEntry and TraceTogether aid in safe reopening.
Seek clarification on reopening your business – In addition to a FAQ section, GoBusiness COVID Portal users can also direct their queries to the COVID-19 Chat for Biz, a chatbot developed by GovTech in collaboration with MTI. Chat for Biz can provide answers on topics such as clarifications on safe reopening or information on business assistance measures under Budget 2020.
Submit an application to continue workplace operations – Business owners can login with CorpPass (a corporate digital identity for government-to-business transactions) on the GoBusiness COVID Portal to:
Submit manpower declarations

Apply for time-limited exemptions

Check on business resumption status and/or other exemption application statuses
For more information on GoBusiness COVID Portal, visit https://covid.gobusiness.gov.sg/.
Last updated 01 February 2021