Overview
SAM is a WOG sensor registrar and 3D visual platform for sensor planning that is currently under development. It works to prevent data silos between different government agencies by providing public officers with an overview of all government sensor assets and metadata embedded in Singapore's infrastructure. SAM helps to optimise WOG sensor planning and deployments by providing easy asset registration and management, and visual awareness of assets across WOG. By aggregating and fusing large datasets, SAM can also unlock more holistic insights for smart city planning.
What is SAM?
SAM is part of the Smart Nation Sensor Platform's (SNSP) suite of products and is a component in the Processors layer of the SNSP Framework (SNSP's tech stack), which includes data exchange, data fusion, data analytics, and visualisation technologies. Processors like SAM contextualise data into insights for users to make data-driven decisions. Currently, the SAM platform is under development, but when it is operational, SAM could help government agencies in their sensor planning and deployment through two key functions:
WOG 3D sensor map
3D map view: View the 3D location of different government sensor assets on a map.

Sensor asset metadata, sensor datasets, and contextual city data: Access different information about sensors, including their locations and the available sensor datasets in an area of interest.

Search: Search for sensor assets using keywords, addresses or by drawing a custom area on the map.

Filters: Focus on key data by applying filters that narrow down data based on agency, project, type, and status.
Sensor registrar and asset management
Self-service portal: Register and manage sensor assets on a self-service portal.

Bulk upload: Drag and drop sensor metadata and sensor datasets into SAM.

Point and click to add sensors: Add sensors individually on the map by selecting any location on the map.

Asset management: Manage sensor assets on the map.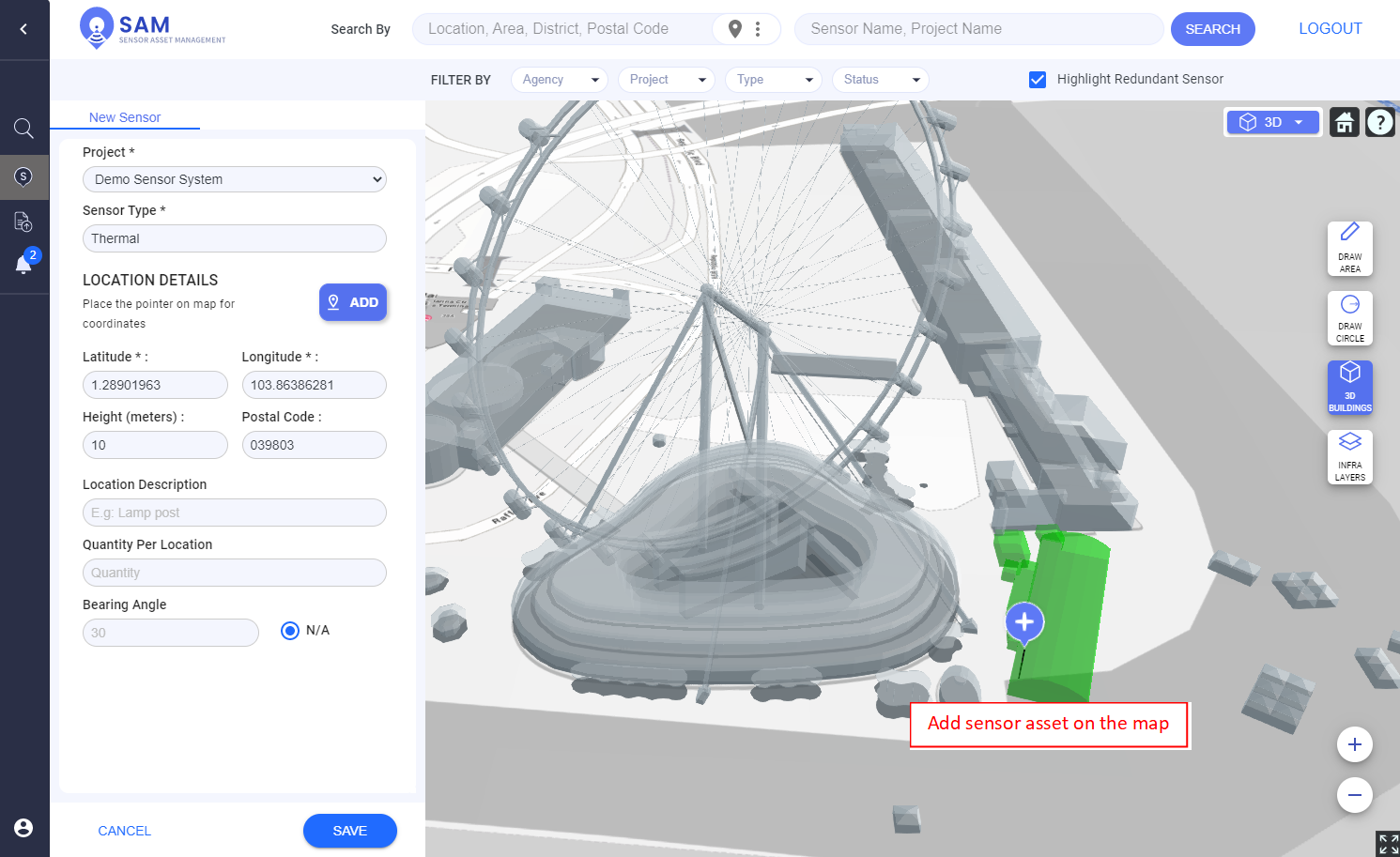 Why Should SAM be Adopted?
SAM can provide government agencies with benefits that include:
Situational awareness of sensor assets across Singapore
When operational, SAM could provide a holistic visual overview of where sensor assets are in Singapore, who owns them, what they are used for, and what datasets are available. SAM will also make it easier for agencies to search and filter sensor assets of interest.
These capabilities could allow government agencies to unlock the value of WOG sensor data and deliver better public services to citizens.
Faster, more efficient sensor deployments
By digitalising sensor planning on a common platform, SAM could also help shorten government agencies' sensor planning and deployment process.
SAM can provide agencies with the information they need to assess whether a location is suitable for sensor deployments without being at the physical site. SAM could also reduce overlaps in sensor deployments and provide common infrastructure and assets for faster deployments.
How Do You Use SAM?
Details on how SAM can be adopted will be shared after the launch of its first operational version.
What's Next?
A non-operational version of SAM is currently available for trials with government agencies. Following this trial period, SAM's capabilities will be enhanced to develop its first operational version that can help agencies in their sensor planning and deployment.
Contact Information
Reach out to the product team with your queries or feedback through this form.
Operations Support
For operational or technical support for SNSP products such as SenseOps, Government agencies can contact the Smart Nation Operation Centre (SNOC) at SNSP_Service_Desk@tech.gov.sg.
For more information on the SNOC, visit this page.
Last updated 11 August 2022
---
Did this page help you? - Yes
Thanks for letting us know that this page is useful for you!
If you've got a moment, please tell us what we did right so that we can do more of it.
Did this page help you? - No
Thanks for letting us know that this page still needs work to be done.
If you've got a moment, please tell us how we can make this page better.
Sent. Thank you for the feedback!