Overview
In late 2018, the Singapore Government announced a five-year plan to migrate most of its information technology (IT) systems from on-premises infrastructure to the commercial Cloud platform to accelerate service delivery and improve services for citizens and businesses. This led to the establishment of the GCC in 2019 to homogenise the onboarding experience and administrative tasks of government agencies on the Cloud, including workload administration, account and billing management, secure access, and compliance to governance policies. In 2020, a whole-of-government (WOG) target to move 70% of eligible government systems onto the Cloud by 2023 was represented in the Digital Government Blueprint. To date, the government has over 600 systems on the Cloud.
Currently, key government services such as MyCareersFuture, GoBusiness, GoBusiness Licensing Portal, SafeEntry, SupplyAlly, Whole of Government Application Analytics (WOGAA), and SHIP-HATS utilise the GCC.
Ultimately, cloud migration is not just a data migration exercise, but a holistic strategy to pursue government digital transformation and advancement of citizen and business services through cloud capabilities. For example, during the COVID-19 pandemic, Singapore's Ministry of Education (MOE) was able to successfully enable home-based learning (HBL) within a week's notice due to the hosting of its Student Learning Space (SLS) on the GCC, which allowed SLS to tap on cloud IaaS and PaaS functionalities to deliver a seamless and smooth HBL experience for students. This also allowed SLS to meet the increased demand for HBL during the pandemic, by scaling its uptake from 100,000 concurrent students to 300,000 concurrent students.
What is GCC?
GCC 1.0 was launched in 2018 as a "wrapper" platform that provides government agencies with a consistent means to adopt commercial cloud solutions offered by Amazon, Microsoft, and Google. However, feedback received include concerns over the tedious process of onboarding the GCC, increased need for automation, cloud native solutions and for less service requests. In response to the learning points from GCC 1.0, a rethink was required on how the GCC is built and operated. As such, GCC was redesigned with the following approaches to give rise to GCC 2.0:
Software approach to infrastructure: Utilise Infrastructure-as-Code (IaC) to implement a core cloud platform
Encourage more usage of native cloud solutions with more dynamic configuration controls and less static system wide controls
Identity and access management (IAM) focused: Utilisation of roles for security beyond networks, where multiple accounts are consolidated to Single Sign On (SSO) accounts to enable strong account identity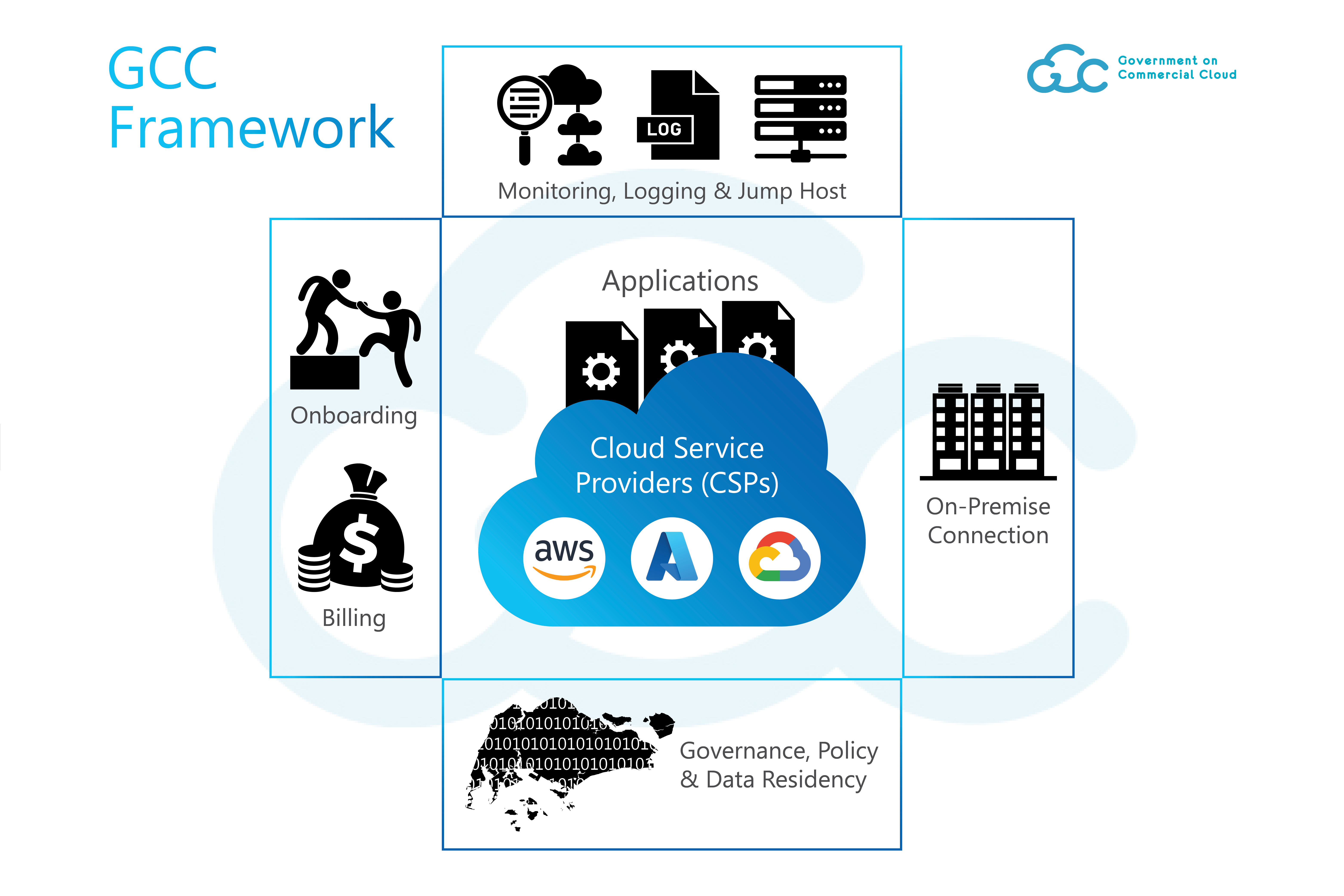 Why Should GCC be Adopted?
GCC 2.0 represents a refinement from our initial platform, based on feedback from users and learning points over the past two years. The GCC 2.0's platform vision includes:
Customer centricity: Recognising the developer as the customer so they are set up right to deliver to citizens and businesses
Automation focus: To reduce toil and service requests
Improved observability and auditability: Promote visibility into apps and traceability over time periods
Compliance and security by design: Allows agencies to comply with most IMs
API first: Exposes service connections via APIs to facilitate government developers
Native solutions over builds: Light touch by adopting cloud technology over heavy customisations to move fast
The key benefits of GCC 2.0 include:
Single Identity: Simplifying and accelerating identity and device security through TechPass, which will be the single credential for all logins to access GCC 2.0 or Singapore Government Tech Stack services;
Endpoint Posture Checks: Through Secure Engineering Environment Device Platform (SEED), there will be real-time periodic posture checks with the capability to terminate access to services when non-compliant (e.g., malware detected on device) only individual services;
Access Control: Cloudflare Access Control - Realtime secured identity with multi-factor authentication (MFA) and device posture through an encrypted channel to access GCC 2.0;
Native Workload Administration: Cloud Native - Relies on more reliable CSP native workload administration; and
Controls & Compliance:

GCC 2.0 infra - Security controls using identity access management and policy-as-code (i.e. real time configuration checks), and
GCC 2.0 CMP - Less dependence on cloud management portal for better control and more automation over service requests.
How Do You Use GCC?
For information on GCC 2.0, you can check out the information and documentations here (require TechPass account).
Please note that some information shared in the Workshop and Tech Talks can be superseded as we continue to add new features and make improvements to the capabilities. We strive to keep the information and guides in the documentation portal updated consistently.
What's Next
GCC 2.0 will be leveraged as a whole-of-government (WOG) platform along with the Singapore Government Tech Stack (SGTS) for modern app development in the Government. The roadmap for GCC 2.0 is as shown below. General Availability (GA) of GCC 2.0 for Amazon Web Services (AWS) has been made on 4 May 2022 while GCC 2.0 for Azure is planned to be ready at around Q3 of 2022.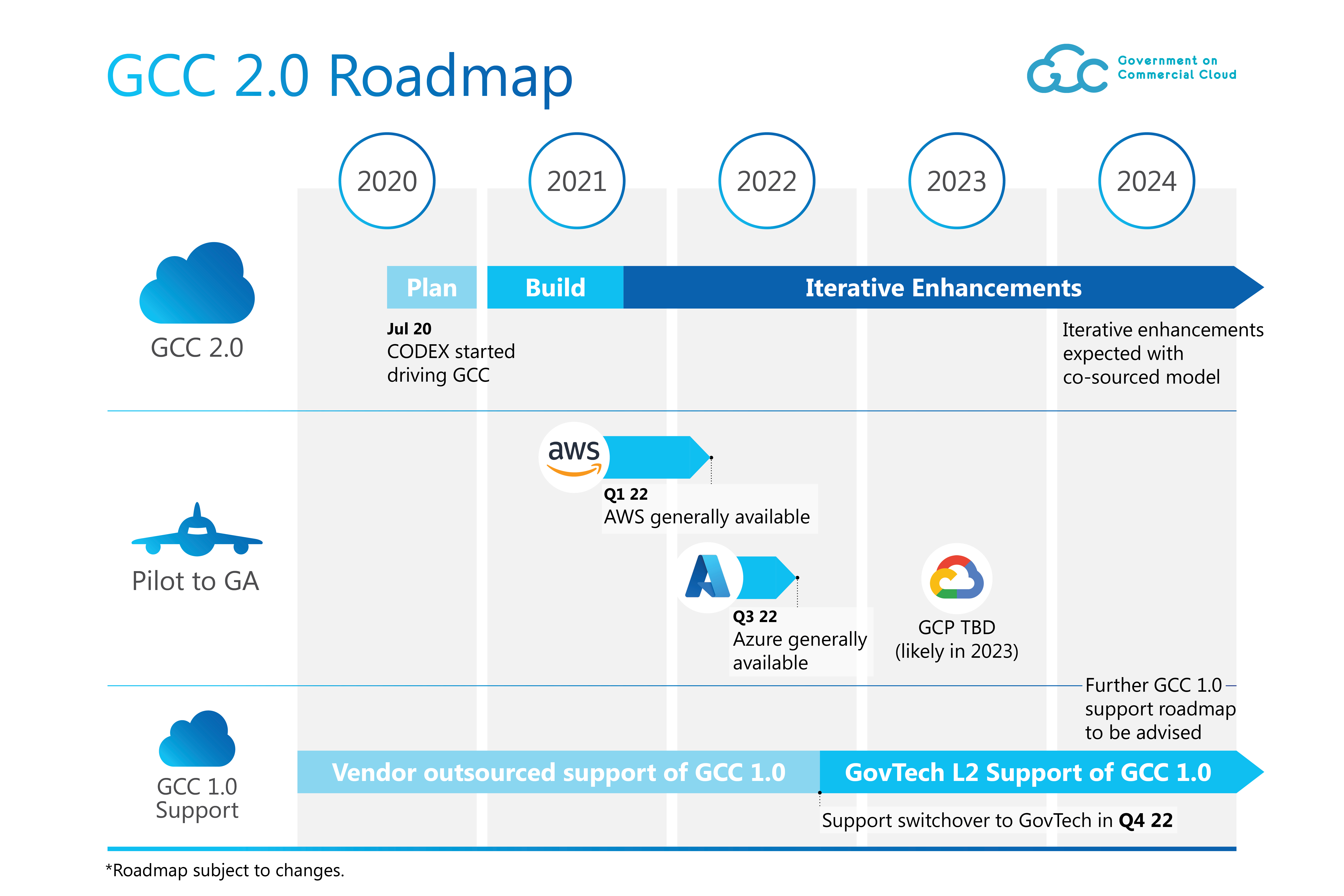 Contact Information
For enquiries, email info@tech.gov.sg.
Last updated 07 June 2022
---
Did this page help you? - Yes
Thanks for letting us know that this page is useful for you!
If you've got a moment, please tell us what we did right so that we can do more of it.
Did this page help you? - No
Thanks for letting us know that this page still needs work to be done.
If you've got a moment, please tell us how we can make this page better.
Sent. Thank you for the feedback!